Cumbrian-Lad's Tour of Wasdale
Introduction
Although this site is primarily about Lakeland hunting history, a little while ago I "floated" a piece about an ascent of Napes Needle in Wasdale in the late 1960 (A Day Out in the VW Beetle). I'm happy to say that this was well received and so I take this opportunity of putting up another piece, this time on fell running, as a "lad" I both climbed rock and ran on the fell but it all started following hounds.
To the right of the bar in the Golden Rule pub in Ambleside is a step down to a cosy corner, where the telephone used to be hung on the wall. I said cosy but the constant stream of people using the phone to arrange assignations, lie to the wife and various other usage at times made it anything but.
Anyway, a group of us sat there that evening in mid July 1973 drinking and storytelling, the craic was good. We all knew each other of course; we were all runners, the two Bobs, Mick, Jack and Terry, we trained together occasionally and drank in the pub, sometimes went to races together and belonged to Lakeland Orienteering Club, one of the leading Northern clubs in the fairly new sport of Orienteering.
I trained quite a lot on Loughrigg Fell behind Ambleside, in those days few others ran, unlike today where every man and his grandmother run through the streets on their way to and from the Fell. Anyway, you would come across prints in the mud and more or less know who had made them, which gave rise to some joking about walking on the steep bits, in the pub that evening.
The conversation got around to next day's Wasdale Fell Race, then the toughest or certainly one of the toughest in Britain, can't remember who else had an entry but I did, qualification for this category A fell race obtained by good results in The Fairfield Horseshoe, Skiddaw and The Three Peaks in Yorkshire. But I had entered more for the " status" than with any real intention of actually doing it. I was in distinguished company that evening, the two Bobs and Mick were experienced fell runners and orienteer" s, one Bob had actually won the Karrimor a couple of times, anyway another pint went down and I blurted out my intention of actually running the Wasdale! Too late I realised that I'd been heard and had dug a big hole for myself but how deep!?
Here is the story...
I hadn't been long in bed when the alarm went off, I stumbled out of bed cursing my thoughtlessness of the night before, sorted out some gear, a quick breakfast and I was off. It" s a good 40 mile drive from Ambleside to Wasdale, over the two mountain passes of Wrynose and Hardknott, and then the steep descent into Eskdale before you get to Wasdale and the start of the race. I drove to Wasdale Head and swung right to Brackenclose where the race was scheduled to start from.
There were quite a few people milling about, runners and their families, most of whom had camped overnight so as to be fresh for the start, certainly not hungover with a long drive behind them. I registered and was given a map and a race number, also a card which was to be marked as I went through each checkpoint.
I sat in the car and looked at the map of the course, to be honest I hadn't a clue about well over two thirds of it, in previous races I had usually walked the course, looking for short cuts, dangerous drops etc, but this was going to be different very different. The following were the checkpoints you had to visit, between them was up to you … I got out the one inch to the mile map.
Checkpoints:
Whin Rigg
Seatallan
Pillar
Great Gable
Esk Hause
Scafell Pike
Brackenclose
The only bit I knew was from Great Gable to Scafell Pike, the rest was completely new, and to be honest I'd never even heard of Seatallan! After I had worked out a rough route I checked my gear, vest, orienteering top with pocket, athletic club vest (I ran fell races for Keswick AC) and a red waterproof tied around the waist, studded hockey boots completed my kit (at the time there was not much choice of equipment, Mr. Walsh had not achieved the world domination of fell running he aspired to, bum bags were few and far between, no energy drinks worth anything, no cereal bars and certainly no hydration packs! "Plenty of watter in' t beck!" It was all pretty basic really). I put a couple of Mars bars in my pocket and a few Dextrose tablets and got out the bottle of embrocation. It was a belief in those days that embrocation "kept the weather out of your legs" and quite a few people used it, the smell got everywhere, I often used to wonder if hounds would hunt the line!
Cannot recall if any "safety" equipment had to be carried in this race. In those days the rules were quite relaxed, for example I did the Karrimor Two Man in Wales with Dave Mounsey around this time and our safety equipment consisted of a pen torch, two small pieces of chocolate and three Elastoplasts, to my surprise we were allowed to start, although a couple of fatalities in other races soon after highlighted the need for proper equipment.
I don't remember how many entrants there were, but it seemed a good field. I remember saying "hello" to Joss Naylor whom I knew vaguely, who, fuelled on his wife's fruit cake and local knowledge, shot round in some ungodly time and won the race, no doubt returning to shear some sheep whilst the rest of us struggled to complete the course.
Brackenclose to Whin Rigg
We assembled at the start and the race began, soon a crocodile of runners was spread out up the slopes of Illgill Head as people settled into their respective pace. I remember being near the back for a variety of reasons! Not the least was a mild hangover.
Route finding to the first checkpoint wasn't a problem, you followed the crowd, but it would become more difficult later as the field spread out. We skirted the top of Illgill Head and arrived at the first checkpoint on Whin Rigg. It only took a moment for the marshals to log you in and stamp your card as proof of having visited.
Whin Rigg to Seatallan
Off again running southwards along the ridge with its spectacular occasional views down the gullies to Wasdale Lake a good thousand feet below. Soon the path began a descent and fell away to descend beside Greathall Ghyll (sometimes known as Haw Gill). I'd never been on this fell before and normally would descend at a great speed but conscious of the distance yet to go and the steepness of the descent took it slowly. I can well recall how steep it is, eventually I found myself in the valley bottom and followed the now thinning group of runners ahead of me across the valley bottom to Greendale and the ascent of Seatallan, after some while I arrived at Cat Beilds. I looked ahead of me and saw the summit of Seatallan ahead up the grassy slopes, it only seemed a few minutes until I arrived at the pile of stones which some claim are the remains of a tumulus, I" m afraid I didn" t hang around long enough to look! Just got my card stamped, stopped for a bite of chocolate and a look at the map, before jogging off in the direction of the next checkpoint on Pillar.
Seatallan to Pillar
The easiest way to my mind on that day (and to this) does not involve any contouring although some will argue it would be better/quicker, I went via Haycock to Scoat Fell and then by Wind Gap to Pillar, a journey of some 4 miles and a total ascent of some 2000 feet. Rocky in places but runnable, I remember starting to tire now, legs ached and the occasions when I stopped to walk began to increase. My vest was wet with sweat and sticking to my back. I was totally alone, the runners who had been near to me earlier had either got ahead, dropped behind or taken different routes. I opened the packet of Dextrose tablets and chewed one. Happily the weather was holding, cloud base well above the peaks and a light breeze. The trig point which denotes the top of Pillar suddenly appeared and the lads from the Mountain Rescue Team stamped my card and relayed the fact that I had checked in to the race control in the valley bottom. I moved away and sat down for a look at the map and more Dextrose.
Pillar to Great Gable
The next section involved a trip to Kirk Fell crossing Black Sail Pass, the eastern ridge of Pillar offers a speedy descent in the main and after the pass a thin track leads through the crags of Kirk Fell which as you look up seems a bit intimidating. Route decided I put away my map and jogged off only to be called back by one of the rescue team. "Wrong way mate," he said, "all the others went that way!" Red with shame I followed his advice, onto the right path!
It was starting to get difficult now, legs ached, a thirst had developed and I was well in excess of the distance covered on a training run. With hindsight I was probably dehydrated, I jogged on, well a mixture of walking and jogging really, passed through the top of Kirk Fell and turned towards my next port of call, the top of Great Gable. On my way I came across Kirkfell Tarn which slaked my thirst although I probably should not have drunk from it! But the ice cold water was welcome, soon the summit of Great Gable appeared and once again I checked in. I love the summit of Gable; it has a memorial to all the lads (and lasses) who died in The Great War. The Fell and Rock Climbing Club put up a plaque in 1924 and every Remembrance Day a service is held on the top, despite the weather!! The views from the summit are to die for but sadly I had not time to take them in today. I moved away from the rescue team, sat down and had a Mars Bar.
Great Gable to Esk Hause
For the first time that day I knew where I was! I dropped down to the Sty Head path (1350 feet of descent in one mile), taking care on the stoney sections, the combination of Dextrose and Mars kicking into my system, rocketed up the path to Esk Hause (a well known crossroads of paths where there is a stone shelter, on the way to Scafell Pike). The bad spell was behind me now; if memory serves I was in the top twenty fastest times for this section when the results were printed later.
There is a path which leaves the main track and cuts under the crags of Great End to join the Scafell track above Esk Hause but as the shelter was the checkpoint you could not use it, which was a real pain as I was conscious of how near the end I was but also how tired I was getting as I trotted in to the control on Esk Hause.
Esk Hause to Scafell Pike
No need for a map now, I'd been up this way numerous times. I left the shelter, walking and running a bit when the gradient allowed, it isn't much of a gradient really just unrelenting but it was like running up Everest the way I felt. Victorian tourists were taken to the top of Scafell Pike on horse back, from Great Langdale apparently, I'd never been able to understand how ponies manged to carry riders over that land of weather blasted rock, which is so desolate and barren the higher you climb. I think they must have carried them so far and then they dismounted and walked to the actual summit.
You don't actually see the top until it suddenly comes into view, but it's a bit higher than you and quite a bit away. So near but yet so far was how I felt, and to be honest I was almost done. Legs ached, gasping for breath, badly in need of a drink and wondering what the hell I was doing! But had to keep going, I knew the Mountain Rescue didn't turn out because you were tired, that one had been tried by some visitor! So I started to tell myself that in 30 minutes it would be over, a lie that was to sustain me for the duration of the race. I arrived at the control point on the summit, asked the usual question, " Am I last?" Got the usual reply. "No." "Who won?" "Joss," one of the lads replied. "Not far to go now and its all downhill!"
Scafell Pike to Brackenclose
The end was in sight, well not totally, the fall of the fellside prevented this, but the idea was good. In order to provide some entertainment for those watching from Brackenclose, the organizers had put a final checkpoint on the fell above, so if there was a sprint finish it would be played out in full view of the crowd. I had the grid reference of this checkpoint and began to plot it. About this time sherds of mist began to blow in and it got a bit colder. I took a compass bearing and trotted off carefully over the boulder strewn plateau which is the summit of England's highest mountain. Suddenly a small group of runners emerged from God knows where. "He must know the way," one said, "a Keswick lad, a local!!" "Don't follow me, lads," I replied, "I'm not sure either," but they did and I wasn" t sure.
We arrived at the finish having missed the final checkpoint. I looked back up the fell - it seemed miles away and quite steep too. "Bugger it!" I thought, "I've had enough." My new found friends took the same view and we dispersed to our cars for a drink and a sit down, despondent that we had not actually completed the course.
I was sitting in the car, when George Long, one of the organisers, came by. "Here," he said, and gave me the certificate shown below. "I didn't do it, George," I said, "missed a control." "Forget it," he replied, "we only put the control in for the spectators."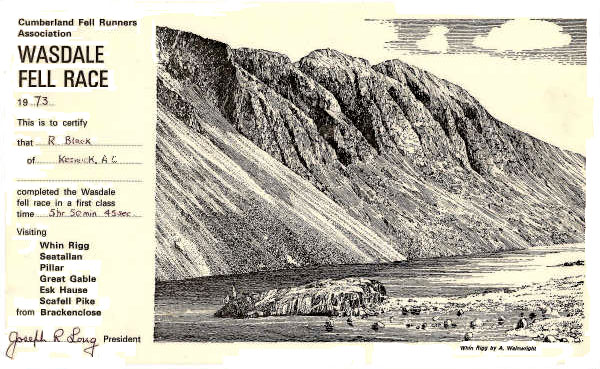 Aftermath
That night, after a long soak in the bath, I got dressed and went into the Rule. Tonight the lads were in the darts room. I bought a pint and shouldered my way in through the throng in the main bar. I took a seat and waited for a lull in the conversation.
"Went to Wasdale today," I said.